Buying a House / Property in England and Wales
What is Chancel Repair Liability?
The House of Lords' decision in the 2007 case of Aston Cantlow and Wilmcote v Wallbank emphasised the importance of having to protect oneself against chancel repair liability when purchasing a property.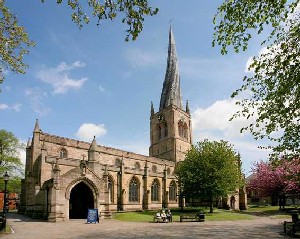 The Wallbanks spent seven years arguing against this liability however it all resulted in them being left with a repair bill of approximately £200,000.00 as the court decided that the standard of repair was more than just keeping the chancel in wind and watertight condition; it was to keep it in substantial repair.
We have written this article in an attempt to answer the most frequently asked questions about chancel repair liability. If you have any other queries in this respect please don't hesitate to call us on 0207 183 0084.
Where does chancel repair liability stem from?
Chancel repair liability is an ancient law which has survived since medieval times; the time of Henry VIII. Although most lawyers are aware of it, it was largely consigned to textbooks until the Wallbank case highlighted that chancel repair liability is still enforceable.
When Henry VIII privatised the monasteries, he also passed on the liabilities to the new owners, who became Lay Rectors. Chancel repair is confined to Pre Reformation (1534) Churches. Other property became rectorial property, or property to which chancel repair liability attached, later on, sometimes through an award made under an Enclosure Act, or through compositions of liabilities to pay tithes under the Tithe Act 1836 or later Tithe Acts, or through the operation of the Tithe Act 1936, which extinguished various classes of tithe
rentcharge.
Do all Churches have a Lay Rector?
Churches built after 1840 on land on which a church had not been previously built will not have a Lay Rector. A lot of churches however have been built and re-built and it is not always possible to identify a date as to when a church was built.
As a general rule, chancel repair liability affects churches built before 1840 or that have been rebuilt after 1836 on the site of an earlier church. There are many instances of a church being rebuilt in the 19th Century on a former, sometimes medieval, church site. It is important to determine as to whether a church was in existence at the time of the commutation of tithes under the Tithe Commutation Act 1836.
In most cases chancel repair liability arose where tithes were commuted to corn rents or allotments of land. This process ended in 1836 when such tithes as had not previously been commuted were either merged in land or commuted to tithe rent charge. Accordingly, any church not in existence at the time of this Act (or built since then on the site of such a church) is unlikely to have a lay rector responsible for chancel repair liability.
What is the Governing Law?
The Chancel Repair Act 1932 governs the law in relation to chancel repair liability. It provides that where a chancel is in need of repair, the responsible authority may serve a notice on any person who appears to them to be liable to repair the chancel. On this notice they must state the extent of the disrepair, the grounds on which that person is alleged to be liable and calling upon them to put the chancel in proper repair. As soon as a month has passed, if the chancel still hasn't been repaired, the responsible authority can then issue court proceedings against the person on whom the notice was served to recover the sum required to put the chancel in proper repair.
If the court feels that the chancel is indeed in need of urgent repair and that sufficient steps are not being taken by a home owner to put it in proper repair, they can order a home owner to pay the sums demanded.
If there are several properties in my area, will I have to pay a small proportion of the liability?
When a property is subject to a chancel repair liability, the liability is joint and several, which means that the owner of a particular property may be called upon to cover the whole cost of repairing the chancel, not just a proportion. It does not matter that the original land burdened with the liability has been divided into hundreds of parts, each part of the land is equally liable for the whole amount. It also makes no difference whether the property is residential or commercial, although it is thought that it attaches to the freehold rather than a leasehold title, meaning that the freeholder and not the tenant of a property will be liable. Even if you own just a plot of land, you can also be subjected to liability, as in Mr and Mrs Wallbank's case.
How many properties in England and Wales are subjected to this liability?
Approximately 5200 properties may be the subject of the liability however around 1200 will be the responsibility of the Church Commissioners and Deans of Oxford, Cambridge and Durham Universities as well as the colleges of Winchester and Eton. The land may not have been adjacent to the church, and the liability may not have been recorded. It can be difficult to determine whether or not such liability applies to a particular piece of land as it may not be identified on the deeds nor at HM Land Registry.
Will a certain area have obvious signs that it could be subject to chancel repair liability?
Some towns/suburbs may give out obvious signs that there is chancel repair liability such as any suburb containing certain terms in its name. Examples would be Parsons (i.e. Parsons Green in the London Borough of Hammersmith and Fulham, London), Rectory, Glebe, Vicarage etc. One may also assume that rural areas and hamlets could be subject to this liability. It is just as possible however for urban areas to be affected and one should not assume that because they are purchasing a property in a city that they will be exempt from liability. Anywhere that has a medieval settlement that now forms part of larger conurbation will be subject to this liability and often it will be difficult to know about this without having made the appropriate enquiries.
Will I still be liable to pay chancel repair if I live far away from a church?
Even if you live up to thirty miles away from a church, you could still be subjected to this liability; it depends on ancient parish boundaries.
How will I know if my property is subject to Chancel Repair Liability?
When purchasing your property your solicitor will carry out a search on your behalf which will determine as to whether or not the property is in an area that is subject to this liability. Before you make an offer on a property you can also search the National Archive at Kew in London which has the most information. It should be noted that the National Archives' holdings do not show all land and property that may be subject to this liability. Further searches and enquiries may therefore be necessary in local archive services and parochial church council and diocesan records.
A personal search of various historical records could also reveal whether a property would be liable however this would be time consuming and very expensive.
How can I protect myself against Chancel Repair Liability?
As aforementioned, In most instances the liability will not be disclosed on any HMLR title deeds. If your chancel repair liability search reveals that the property could be subjected to this liability, an indemnity policy of insurance should be considered. If you wish to save on costs in submitting a search, an indemnity policy of insurance can be obtained in any event to cover you however it is better to know whether you are in an affected area regardless.
It would be sensible to take out this type of insurance policy as for the relatively small layout of expenditure it would protect you from any potential liability towards the costs of contributing towards the repair of any church or churches within the vicinity of the property. Most insurers provide cover based on the value of the property and costs from as little as £14.00. The premium increases as the value of the property does.
In order for an insurance policy to be valid, you must ensure that no enquiries have been made of the Church or parties connected with the Church regarding CRL, that the parish church is currently in a good state of repair and that there is no current appeal to raise funds for the repair of the parish church.
Although the chances of receiving a claim from a local church can be remote an indemnity policy of insurance will afford complete peace of mind.
Will Chancel Repair Liability be abolished?
Attempts have been made to abolish this ancient law however an Act of Parliament has not yet been passed. There will be some certainty in that chancel repair liability will not affect specific properties if the liability has not been registered against a property by 12th October 2013, and the property is sold to a new purchaser, who would then take the land free from any chancel repair liability.
This means that after 12th October 2013 new purchasers of a property can be satisfied that there is no liability if nothing is registered against that property however existing owners will stillbe liable. It is reported that the Church of England is proactively identifying and registering land that is subject to a chancel repair liability before the 2013 deadline. Properties with a chancel repair liability registered against them will remain liable unless they can persuade the church to remove the entry.
Due to this reform a positive result would require a buyer to disclose the overriding interest (via his/her solicitor) when applying for registration at HM Land Registry following completion of his/her purchase. This would almost certainly have an affect on the value and/or marketability of the property in the future. Furthermore, it should be borne in mind that such a registration could put the church on notice in situations where they may be unaware of the liability, thereby increasing the risk of a demand for payment.
If you would like further advice on this matter or if you would like a quotation for purchasing your property, please contact us on 0207 183 0084.
Ola Leslie Solicitors
10th February 2012
The contents of this page are intended for general information purposes only and shall not be deemed to be, or constitute legal advice; the firm does not specialise in ecclesiastical law. We cannot accept responsibility for any loss as a result of acts or omissions taken in respect of this page.