HOW TO EXECUTE YOUR DOCUMENTS PRACTISING SOCIAL DISTANCING
The COVID-19 definitely has had an impact on our daily lives. We have to practice the act of social distancing and self-isolation which has lead to a lot of businesses closing down and poses a lot of issues especially when it comes to signing and witnessing documents.
During this period we have received a lot of emails from our clients stating that they have limited access to printers and scanners and experience difficulty in getting a witness to sign their documents due to social distancing.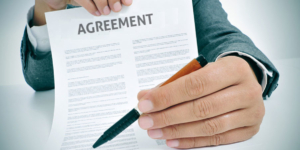 What is a Signature?
According to The Cambridge Dictionary, A Signature is "your name written by yourself, always in the same way, usually to show that something has been written by you".
When you are unable to sign a document physically the following ways are acceptable;
The individual types their name into the contract

They used an e-pen or finger to sign in a tablet

Their signatures were generated by an e-signature platform
Now signing the document is settled, there are some documents and contracts that require that it be witnessed. For example, in conveyancing the transfer document has to be signed and witnessed by the client and in the bid of following the government's guidance, the witnessing can be done virtually if the client can't get anyone to witness the document physically. Though best practice provides that "physical" presence is better, the virtual witnessing will come in as the last resort.
As mentioned earlier the virtual witnessing will be used as a last resort which means that your solicitors have tried every possible way to get the original documents across but it wasn't possible to get it signed and witnessed then the following points should be looked at by both parties to come to an agreement.
Communicate to all relevant parties involved on the method of signature that is acceptable.

Agree on a date, time and the virtual platform that will be used.

Ensure that a protection layer is included on whatever virtual platform will be used

An additional email will be required from you confirming that you e-signed the relevant document.

An additional email will be required from the witness confirming that they were present to witness the e-signature.
If you are unable to get a witness for whatever reason, do not hesitate to come to us to help in signing documents during this COVID-19 period.
To read more on electronic signatures you can click here
There are more details on the guidelines and precautions for those that are looking into buying or selling their homes this period. Click here to read more.
Questions about conveyancing and buying a house? Get a quick, free, no obligation quote today. CLICK HERE.
We will respond with a detailed written quote and to answer any questions that you may have. 

Find out about our Fixed Price Promise

.
You can call us on 0207 183 0084 or email us on property@olaleslie.com  for a fixed fee conveyancing quotation. We are always happy to assist.

Our teams of solicitors are based in London Bridge, Southwark (Bankside), London SE1, but we act for individuals all over the world.