Certified Copies of ID and Proof of Address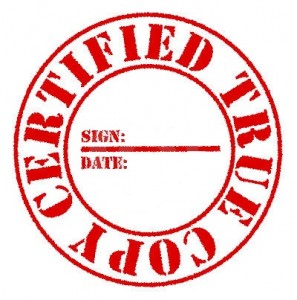 A certified copy is a copy of a primary document, that is endorsed to confirm that it is a true copy of the primary document.
A certified copy may be required for official government or court purposes and for commercial purposes such as for financial or legal matters. It avoids the owner of important documents giving up possession them which may lead to them being lost or damaged.
To be assured that certified copies of your identification will be accepted by the recipient, your point of call should be at a solicitors' firm although the Money Laundering Regulations set out which other professionals can also carry this out for you. The list however is now somewhat limited.
Ola Leslie Solicitors offer certification services at competitive rates; the fees being dependent on the complexity of the requirement. These types of certifications are recognised within England and Wales.
Same day appointments are always offered and usually only take a few minutes.
Do you need Form ID1 or ID2?
We can also verify your identity by way of completing and signing HM Land Registry's Form ID1.
Conveyancers and non-conveyancers must now certify to HM Land Registry that they are satisfied with the identity of any party to a transaction. If you are not represented, Form ID1 must be completed and signed by an independent solicitor. This can occur in situations such as in transfers of equity, the grant or surrender of a lease, adding or removing a charge, the appointment or the retirement of trustees or compulsory first registration, where the true value of the land involved (not the value of the transaction) is greater than £5,000.00. If you are a mortgagee, a buyer or seller, a tenant or a landlord then you may need to have your identification verified by way of Form ID1.
As will all other certifications, we can offer same day appointments and offer competitive fixed fees. Please contact us on legal@olaleslie.com or 0207 183 0084 to arrange a suitable time for you to visit.
Statutory Declarations
As Solicitors and Commissioners for Oaths appointed by the Lord Chancellor, we are authorised to witness the swearing of Statutory Declarations and Affidavits. Ola Leslie Solicitors London Bridge can verify your sworn Statutory Declaration for you and any exhibits accompanying an affidavit.
Ola Leslie can also draft Statutory Declarations and Change of Name Deeds on your behalf. Please contact us on 0207 183 0084 for a quotation or e-mail legal@olaleslie.com
We are solicitors who can certify your ID or certify your ID1 in Central London; we receive client visits from people from South London, North London, West London, East London, Kent, Surrey, Essex, Suffolk, Edgware, Stanmore, Harrow, Wembley, West Hampstead, Acton, Ealing, Hammersmith, Chiswick, Fulham, Putney, Barnes, Wimbledon, New Malden, Keston, Bromley, Orpington, Gerrards Cross, Slough, Barbican, Moorgate, Edgware Road, Wandsworth, Lambeth, Lewisham, Southwark, Westminster, Mayfair, Picadilly, Covent Garden, Park Lane, Hyde Park, Chelsea, Kew Gardens, Richmond, Twickenham, Holborn, Nationwide. We can also assist you with independent legal advice on personal guarantees for commercial mortgages (when buying a property in a limited company's name), HSBC indirect mortgages, Deeds of Consent, multiple guarantees for Paragon Mortgages, remortgages and transfers of equity.